What's in the package? 
-1x numbered oil-based paint set 
-1x pre-printed numbered high-quality canvas 
-1x set of 3x paint brushes (Varying bristles - 1x small, 1x medium, 1x large)
-1x hanging kit, including 2x screws and 2x non-track hooks
-1x set of easy-to-follow instructions for use
+ Free Gift! -1x DIY wooden frame!
Take the struggle out of Struggling Artist!
Unleash your creativity with EASY, FUN, BEAUTIFUL DIY paint-by-numbers kits for adults. Spend a relaxing night in and create your own awesome wall art.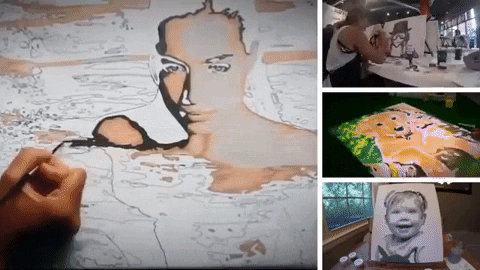 Why you should order: 
FANTASTIC GROUP ACTIVITY - Spend a special night in with the girls (wine recommended) 
DIY HOME DECORATION - Paint your own wall art, even if you have zero artistic ability 
PERFECT GIFT IDEA - Whether it's for a birthday or Mother's Day, give a gift they'll love 
RELAX. Take your mind off the anxieties of the work day and your crap boss. Who needs therapy when you have paint by numbers? 
About Us 
We believe that you don't have to go to a therapist to get therapy -- paint your own wall art instead! We've partnered with global artists and manufacturers to deliver high-quality paint-by-numbers kits for adults featuring one-of-a-kind designs. 
DID YOU KNOW: Breakthrough scientific studies back in 2005 proved that creative activities like coloring and painting can cause anxiety levels to drop. And let's face it, your wall needs redecorating anyway, right? 
No special skills required!
---