HOW IT WORKS
-Select the size of the canvas
-Upload your own picture (in .JPG or .PNG)
-Complete your order
-Confirm our design for optimal quality
-Await your customized paint by numbers art and start painting!
What's in the package? 
-1x numbered oil-based paint set 
-1x pre-printed numbered high-quality canvas 
-1x set of 3x paint brushes (Varying bristles - 1x small, 1x medium, 1x large)
-1x set of easy-to-follow instructions for use
Take the struggle out of Struggling Artist!
Unleash your creativity with EASY, FUN, BEAUTIFUL DIY paint-by-numbers kits. Spend a relaxing night in and create your own awesome wall art.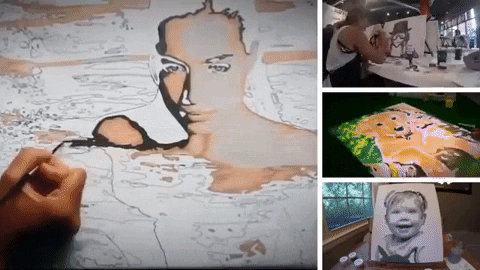 Why you should order: 
FANTASTIC GROUP ACTIVITY - Spend a special night in with your friends (wine recommended) 
DIY HOME DECORATION - Paint your own wall art, with the reassurance that the outcome will be pleasing
PERFECT GIFT IDEA - Whether it's for a birthday or Mother's Day, give a gift they'll love 
RELAX. Take your mind off the day to day grind. Focus on recreating a memory,  and enjoy that wonderful feeling of accomplishment every time you see your own art!
Please note
1. As with all our products, these are paintings you need to finish yourself. We do not sell finished paintings.
2. The custom painting will be provided as a design to you first, to ensure you are happy with the end-result before finalizing the order. This will add a short delay in the fulfillment process.
3. We do not offer the cheapest product, but please believe our quality is the best!
4.When you finish your painting, you can send us some photographs, we will share them with other customers all over the world.
  
Size and Color
 
1.Due to limitations in measurement, the actual size can deviate slightly (less than 2cm).
2.Please allow for tiny differences in color. It may be caused by the color reflection in the monitor, the light, the background, etc.
Customized DIY Numbered Painting (various sizes)
Good purchase
Before I placed the order I had some doubts regarding the wrinkles, but I got the package carefully rolled on the plastic tube. To be honest, there were some wrinkles, coz of transportation but while painting they disappeared and it looks good. I have already placed another few orders from Bambuce.com
https://ibb.co/kcdfRkM
Despite the fact that the order took a long time, more than a month, the results of the seller's work are satisfied. The only drawback of the package is that the canvas is not screwed on the roller, but folded, many folds, they are easily smoothed out by the iron. I would have taken this little thing into account if i were the seller. I will not shoot stars for this, the seller was very attentive. I will definitely appeal again. I recommend.